Welcome on our homepage Durchdiemitte.de!!!
Update - March / April 2010:

We made our dream come true and traveled with our motorbikes on the island of Taiwan. One of the bikes didn`t survive the trip, but we were most fortunate to get as a replacement a smaller bike. Nevertheless we drove cross-country, beginning in the northern part in Taipei down to the tropical south and back altogether in 8 days. That`s what was left of our traveling time due to the harassment of the authorities. The bureaucratic bullying of all involved companies including our so called Support, who dropped us shortly after we arrived on Taiwan, all this couldn`t stop us.
It rather motivated us to go on and we were rewarded with the probably most astonishing roads you can imagine, passing black Vulcan coasts, mountains over 3000 meter high in thin air, rocky areas with breathtaking high gorges and finally the tropical hot south.

We had to leave our bikes behind, so going back home by plane was a hard decision. We came almost the whole way from Berlin to Taiwan on the ground; accordingly our trip was most stunning and a formative period, which demanded everything from us.

Upcoming we will take some time to write some stories of our adventure trip in detail and develop our website as well. So take some time to have a look once in a while.

Your returned biker boys
Lars & Pierre


_______________________


Update - February / March 2010:

We did it! We reached our final destination after 155 days and more than 28.000km on the road, beside the road, on rail and water: Taiwan!
We took the ferry from Xiamen in China to the island of Kinmen and entered the Taiwanese territory without using an airplane. From there, however was the only possibility a small propeller plane to fly us to Taiwan's main island.

Now that it`s been almost four weeks on the island and we still have a major problem. The Taiwanese authorities don`t want to release our motorbikes. Any attempts failed so far. A temporary import does not seem to exist here and we were willing to pay an import tax. But now another lobbying organization, which obviously controls the authorities, doesn`t conform to the agreements we have made so far with the customs. So we were put off again. So far for four weeks. But after all, we have had a look on our machines and were able to start on of them. Nevertheless, they had rough journey without us and aren`t in the best shape.

Our schedule to explore the island is going to be very tight. We intend to be back in Germany at the end of March. Even without our beloved machines. But we will go any way and try anything to make it happen that we can ride our bikes here in Taiwan.
So keep your fingers crossed and you can get some more good stories and photos ;)

Your island bikers
Lars & Pierre


_______________________


Update - December 2009:


We wish you all merry Christmas and a happy New Year!!!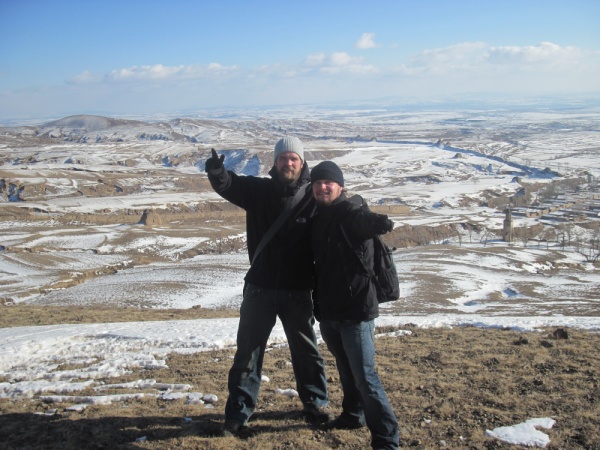 For more than 100 days and 20.000 km we have been travelling now, since the first of September. Plenty of things of our original indented plan changed but plenty worked the way we planned. So we traveled through Poland, Ukraine, a short cut on the Russian territory and for one month through Kazakhstan, just to leave the country to the north entering Russia again in Siberia.

To ride the motorbikes in China didn`t work out, but we never lost our faith in going there. So we took the Transsiberian Train from Novosibirsk to Vladivostok. Even the motorbikes came this way but on a different train. Unfortunately we had to send the bikes from there on a ship to Keelung, Taiwan where they are waiting for us to follow them. Only the authorities in Taiwan don`t seem to be happy about this.
Anyway we are traveling at the moment through China like we planned only now as backpackers. We are going to spend our Christmas and New Years Eve in the middle of China. Thereafter we want to travel to Macau and Hong Kong, to finish our trip on Taiwan afterwards and if possible we will prevent flying and take a ferry instead.

We`d also like to take the opportunity to say a huge thanks to all the people who supported us and believed in us: THANK YOU!!!

Your Globetrotters
Lars & Pierre

btw: We have a guestbook now.

_______________________


Hello friends, family and all you others!



Lars and I are on an amazing motorbike trip that shall get us to Taiwan. On Tuesday, the 1st of September 2009 we started our tour with all the things we need or probably not, fully packed on our beloved Yamaha Ténérés.

Our motorbike trip leads us away from Berlin, Germany through Poland, Ukraine, Russia, Kazakhstan, China, Vietnam and hopefully all the way to Taiwan. We want to be there at Christmas 2009. So it takes approximately 3½ month for this distance. In Taiwan we are planning to travel as well to explore the whole island and stay for another 3 month if possible. So if everything works out the way we planned, you can see for yourself on this website.

On our blog you can watch our progress and leave us a comment to wish us luck, which we will definitely need. The articles in the blog are actually written in German language, but we arranged an automatic translation via Google. We apologize for some bad translation and hope you still can enjoy reading our travel notes. It is also possible to translate it into any other languages. Just have a look!
On "The Route" you can see where in the world we are right now. Of course we try to keep it up to date.

Until then we will keep our noses in the wind ;)

Lars & Pierre